Joboffer dated from
12/08/2016
Community Manager English (f/m)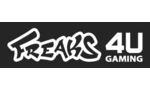 Community Management / Customer Service / Support
Full-time
immediately
---
Company data
Freaks 4U Gaming GmbH
---
Job description
Gaming is our passion. A strong presence in esports since 2004, Freaks 4U Gaming is the ultimate bridge between game publishers, hardware companies, gamers, sponsors, leagues, the community, and many others along the way. Based in Berlin (with offices in Taipei, Irvine and Nis), Freaks 4U Gaming GmbH employs professionals from all over the world to be the liaison between different facets of the gaming world. Our focus is on great relationships, consistent support, and ever-improving standards of excellence, because we love what we do!

That's where you come in...


Your Quest: (look below)

As a Community Manager at Freaks 4U Gaming, you are the gatekeeper between the customer and the community. When donning your Game Master's hat, it is your job to get your hands dirty, proactively seeking interaction with the community and supporting a fantastic social media experience for all our users. Engaging in limitless conversations about our customers' products should fill you with rainbows, joy and kittens... leading to some rather psychedelic vomit... In the event that you are responsible for customer support, you will advocate change on the gaming community's behalf because you are a gamer! Ultimately, you will report on metrics to reflect accurately a healthy and engaged community. As an ambassador to the users, you will also coordinate online and offline events and manage content across a myriad of social media platforms.


Your Traits:
Like a Sir

: Fluency in English.

Social Butterfly

: Strong communication skills.

Part-time-Poet

: Stellar creative writing skills.

Forum Troll

: Experience working with online communities.

Nerd

: Passionate about gaming and the esports realm. Also forgets to eat whilst playing and considers 8 hours spent gaming as "warm-up".

Party Animal

: Experience with online and offline game events.

Social-Media-Mogul

: Avid social media user who understands social media communication strategies.

Chameleon

: Ability to work independently and as part of a team, adapting easily to others.

Sensationalist

: Interested in and aware of online and offline trends.

Know-it-all

: Familiar with Rules of Conduct, infractions, and moderation.

Human 2.0

: Proficient with Microsoft Office.

Hybrid

: Being able to Tank and Heal minimum, DPS is a bonus.
Class Role and Responsibilities:
Organize time effectively and efficiently between diverse tasks

Inspire growth and interaction within the community.

Construct and implement innovative content for all platforms: websites, Facebook, YouTube, Twitter, Instagram, reddit, etc.

Maintain an efficient communication channel between the customer and the community.

Interact assertively and gregariously with multiple parties on occasion

Resolve customer support enquiries and develop conflict management solutions.

Monitor and compile feedback from the community for use by the Freaks, the customer, and your own research.

Assist development of strategic community marketing methods.

Plan, manage, and execute online and offline events.
Freaks 4U Gaming is a safe haven for all gamers and lovers of esports. We provide challenging opportunities for growth, and stretch each team player to fulfill his/her potential. Come over to the dark side and be prepared to engage proactively with an innovative organization unlike any other.

Applications should include a resume, letter of intent, gaming CV, earliest starting date, and your favorite gif or meme.
Contact details:
jobs@freaks4u.de
Freaks 4U Gaming GmbH
An der Spreeschanze 10
13599 Berlin
www.freaks4u.de
---
Contact Person
Ayla Tolan
Senior Human Resources Manager
An der Spreeschanze 10
13599 Berlin
Write e-mail