Joboffer dated from
06/06/2019
Marketing Manager Taiwan (m/f/d)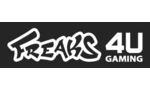 Art / Layout / Illustration
Full-time
immediately
---
Company data
Freaks 4U Gaming GmbH
---
Job description
Your Gateway into the Gaming Industry
Freaks 4U Gaming is one of the world's largest 360° marketing and communications agencies specializing in gaming and esports. Headquartered in Berlin (Germany) with branch offices in Irvine (USA), Taipei (Taiwan) and Niš (Serbia), the Freaks have been working with leading hardware manufacturers, esports organizations, publishers and other industry stakeholders for nearly 15 years. Freaks 4U Gaming currently employs 170 people and is awarded the title "Growth Champion 2017" by FOCUS Magazine as one of the fastest growing companies in Germany.
Since June 2015 we are also running our own TV-show, which broadcasts three hours per day, for 5 days a week on local TV.
Location: Xinyi District, Taipei (Taiwan) / Work Schedule: Full time
Your Quest

As a Marketing Manager at Freaks 4U Gaming, you are the gatekeeper between the customer and the agency. When donning your Game Master's hat, it's your job to get your hands dirty, proactively seeking opportunities for the company and supporting a fantastic service experience for all our customers. As an ambassador to the customers, you will facilitate international conversations, oversee content across a myriad of platforms, as well as engage in limitless conversations about marketing our customers' products. When handling multiple accounts, you'll advocate on the gaming community's behalf because you are a gamer! Ultimately, you'll report on metrics to accurately reflect a healthy and engaged target audience.


Your Profile
Pro Grinder: At least 2 years of experiences in client service or project management
Like a Sir: Fluency in English
Social Butterfly: Strong communication skills
Part-time-Poet: Stellar creative writing skills
Nerd: Passionate about gaming and the eSports realm. Forgets to eat whilst playing and considers 8 hours spent gaming as "warm-up"
Chameleon: Ability to work independently and as part of a team, adapting easily to others
Sensationalist: Interested in and aware of online and offline trends
Human 2.0 : Proficient with Microsoft Office
Hybrid: Being able to Tank and Heal minimum, DPS is a bonus
Your Role and Responsibilities
Organize time effectively and efficiently between diverse tasks
Proactively stay up-to-date with the latest developments in gaming and eSports
Oversee the execution of all customer-related projects
Maintain an efficient communication channel between the customer and the company
Interact assertively and gregariously with multiple parties on occasion
Monitor and compile feedback from the community for use by the Freaks, the customer, and your own research
Assist development of strategic marketing methods
What's in it for you?
Experience first-hand the excitement of an industry of great potential and exponential growth
Work alongside a motivated team of talents in a fun, fast-paced agency environment
International exposure through partnering with top companies, eSports organizations and other key industry stakeholders worldwide
Interested?

Send your covering letter, CV, as well as your start date and desired salary via our online form.

Freaks 4U Gaming (Asia) Ltd.
4F, No.495, Guangfu S. Road
Xinyi District, Taipei, Taiwan
---
Contact Person
Ayla Tolan
Head of Human Resources
An der Spreeschanze 10
13599 Berlin
Write e-mail