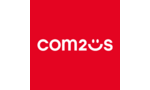 ---
---
Company description
GAMEVIL COM2US Europe GmbH provides localization, marketing, community management, customer support and game operations services for a wide selection of mobile games, published by our parent companies GAMEVIL and COM2US. We service all of Europe, Russia and the Middle East from our office in Berlin, Germany. Our group's headquarters is located in Seoul, South Korea, with further international offices in the USA, Japan, China and Southeast Asia.
As a major mobile gaming publisher, our portfolio is diverse: Summoners War is a top-grossing mobile RPG, consistently ranking in the top-5 grossing charts in France and Germany. Talion is a mobile MMO with top-20 success in Japan, about to launch in the West. But we also work with major international licenses and IP: Major League Baseball and NBA are our partners, we have some of the best golf and fishing games in the market and are working together with developer Slightly Mad Studios on the mobile version of PROJECT CARS. We have also partnered with Activision and developed and published the mobile game Skylanders: Ring of Heroes.
In 2017 & 2018 we hosted offline events such as the Summoners War World Arena Championship in Paris and Berlin, with over 1.000 people in the audience, players from across Europe, streams in five languages and hundreds of thousands of viewers on Twitch and Youtube.
---
Video
---
Current job offers
Business Development / Sales
Gaming Data Analyst (m/f/d)
more
Community Management / Customer Service / Support
Community Manager - Russia (m/f/d)
more
Community Manager - France (m/f/d)
more
Marketing / PR
PR Marketing Manager Europe (m/f/d)
more
Marketing Manager - France m/f/d)
more
Writer / Editor
Senior Content Editor (m/f/d)
more
---
Contact Person
---
Estelle Lafargue
Head of Localization
Torstraße 33-35
10119 Berlin
Write e-mail
---
Miriam Matzk
Head of Accounting & Office Management
Torstraße 33-35
10119 Berlin
Write e-mail
---
Artjom Vitsjuk
Head of Global Localization Engineering
Torstraße 33-35
10119 Berlin
Write e-mail
---
Chinh Vu
Director Marketing & Communications Europe
Torstraße 33-35
10119 Berlin
Write e-mail
---
Dustin Reis
Head of Community Management
Torstraße 33-35
10119 Berlin
Write e-mail
---
Kirk Dettmann
Head of Customer Support & QA
Torstraße 33-35
10119 Berlin
Write e-mail
---
Gamevil Com2us HR Team
Human Resources
Torstr.33-35
10119 Berlin
Write e-mail

---