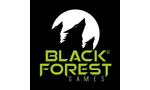 ---
Firmenbeschreibung
Black Forest Games is part of the fastest growing publisher in Europe, Embracer Group, and the biggest studio of THQ Nordic Vienna. Here in the south of Germany, directly at the French border, we combine the creative freedom and culture of an independent studio with the financial security of a big publisher.
We are a diverse team with a history of seeking long-term companions. We hire for the studio, not for the project. This is an important part of our company philosophy. Talent is always welcome, no matter where you are from. We offer a family-friendly work environment, a lot of flexibility, and the possibility to send your kids to an international school nearby. All of this in a region where kids still play in nature and the school is only a bike-ride away.
As an international team we foster diversity. If candidates embrace that as well, this is a big plus for us. If you are the one to make our team even more diverse, we welcome you with open arms.
---
Aktuelle Jobangebote
Art / Layout / Illustration
Lead Concept Artist (m/f/d)
mehr
Lead VFX Artist (m/f/d)
mehr
UX Designer (f/m/d)
mehr
Lead Concept Artist (m/f/d)
mehr
Lead VFX Artist (m/f/d)
mehr
Senior/Mid VFX Artist (f/m/d)
mehr
Concept Artist (f/m/d)
mehr
Lighting Artist (f/m/d)
mehr
AI Programmer (f/m/d)
mehr
Audio / Music / Sound
Audio Designer (f/m/d)
mehr
Productmanagement / Producing
Senior Producer (f/m/d)
mehr
Programmer: Game Developer
Audio Programmer (f/m/d)
mehr
Tech-Programmer (f/m/d)
mehr
Programmer: IT / Backend / Client / Web
System Administrator (f/m/d)
mehr
---
Ansprechpartner
Sarah Cavoleau-Trau
Lead HR Manager
Maria-und-Georg-Dietrich-Straße 2
77652 Offenburg
E-Mail schreiben
---