Animation and Game - Hochschule Darmstadt
Max-Planck-Str. 2
64807
Dieburg
Germany
Website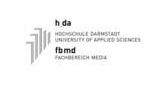 ---
School profile
You feel it is exciting
to invent characters and worlds and make them come to life? You love to come up with stories and to transform them into images? Maybe you have already experimented with animation techniques like flipbooks, stop motion animation or computer based animation tools?


You are a keen gamer
and have invented your own boardgame, played around with game modifications and machinima or made a simple computer game? You are really curious about how video games and animations are being produced in the industry? You would love to become a professional animation artist or game designer yourself?